MOlu John Passes on
Macaulay Oluwafunmi John Passes on: See Burial Arrangments
Sign Condolence Registers
Memory Bank
Photo Album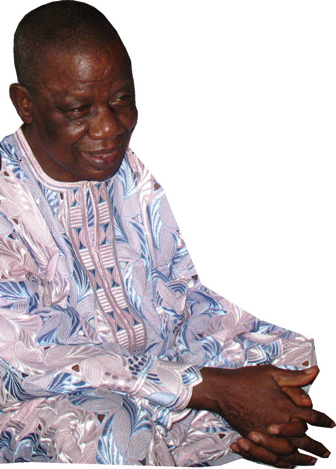 With gratitude to God for a life well spent, we announce the passing to eternal glory on Tuesday June 1, 2010 our husband, brother, father, grandfather, Uncle, cousin, Elder Macaulay Oluwafunmi John.

Papa Olu John is survived by his wife of 45 years, Mrs. Margaret Taiwo John, 8 children and many grand children. Amongst Papa John's children in chronological order (and spouses where applicable) are:
Hannah Abiola Akingbade (nee John) - An Elementary School Teacher in Lagos. Spouse: Mr. Tunde Akingbade, Engineering Department 7up Bottling Plant, Lagos
Emmanuel Babatunde John - Assistant Professor, Department of Physical Therapy, Howard University, Washington, DC, USA. Spouse: Mrs Oluwatoyin Modupe John - Independent Sales Director and free car driver with Mary Kay Cosmetics
Andrew Akinwale John the 1st (Deceased - April 27 1970 - January 7, 1981)
Benjamin Oluseyi John - Fishery Farm Expert and Contractor, Sango Ota, Nigeria. Spouse: Mrs Tosin John, Lecturer, Tai Solarin College of Education, Ijebu-Ode, Ogun State.
Rhoda Olutayo Farinde (nee John) - Lecturer, School of Medical Records, lagos University Teaching Hospital, Lagos, Nigeria. Spouse: Mr. Kunle Farinde, Accountant, Federal Civil Aviation, Benin City, Edo State
Dorcas Olubunmi Johnson (nee John) - Medical Records Personnel and Statistician, Ondo State Ministry of Health. Spouse: Dr. Ibikunle Johnson, Medical Officer, Health Center, Adeyemi College of Education, Ondo Town, Ondo State
Victoria Iretiolu Adebayo (nee John) - Computer Scientist and Lecturer, Covenant High School, Canaan Land, Ota, Ogun State, Nigeria. Spouse: Mr. Ade Adebayo - Business Executive
Andrew Akinwale John the 2nd - Student, Bachelor of Business Admin, Lagos State University
Joseph Omoosho John - Student, Federal College of Statistics, Ibadan, Oyo State, Nigeria
Papa Macaulay Oluwafunmi was born to Mr. John Akinmeji and Mrs. Christiana Akinmeji of Iju-Odo, in the present Okitipupa Local Government area of Ondo State, Nigeria on April 30, 1941. Papa John was a very intelligent child and always at the top of his class. He was so good that he was immediately employed as a Teacher (even without a pre-requisite Teacher's Training Certificate required for teachers in his early days). He therefore had the opportunity to train/teach many students who are today holding key positions in various ministries and parastatals in Ondo State, Nigeria.

Papa John lost his own father when he was 17 years of age, and therefore had the responsibility of prematurely becoming the breadwinner of his family. he was saddled with the resposibility of taking care of his mother, and his two siblings; Mr. Gideon John and Mrs. Mary Idowu (nee Akinmeji) who are still alive and well today. The loss of his father also aborted his dream for higher education in a University. However, he was such a man of great intellect that he very easily rub shoulders with even post-graduate and doctorally educated peers.

Papa John worked all kinds of menial jobs to support his family (mother and sibblings). He later relocated from Iju-Odo to Lagos in pursuit of better opportunities in 1959. It was in Lagos that he adopted his father's first name as the new family name. He therefore started the Macaulay Oluwafunmi John Clan. This was in demonstration of his love and fondness for his late father and also to avoid being discriminated against. In those early days in Lagos during the British colonial days, not having an English name seem a misnormer and a gauranteed recipe for some suttle form of discrimination.

In the late 60's Papa John joined Boulos Enterprises in Lagos where he worked tirelessly to help build the company. Boulos is the sole motorcycle assembly plant for Suzuki Motorcycles in Nigeria. In the early 1970's Papa John ventured out on his own becoming a major dealer and distributor of Suzuki motorcycles for Boulos Enterprises. He started 'MacJohn Enterprises, and opened offices in Lagos and Maiduguri, present Borno State capital. He ventured to go far north east of Nigeria because of his adventuring spirit and to make sure he brings suzuki to a place in Nigeria, where it was not previously know.

Mac John Enterprises was an astounding success for a number of years, boosted by the then popular Udoji award, and motorcycle loan given to federal workers in those days. Papa John also had an incredible big heart and an extremely generous spirit. He made sure he spread his wealth around and lifted so many out of poverty. He was a tremedous blessing to so many, sometimes painfully to the detriment of his own family. He hates to see people in lack, and he'll do everything he can to help.

Mac John Enterprises however went bankrupt about 1976 due to a series of unfortunate incidences which majorly borders on Papa John trusting his lieutenants, surbordinates and employees who stole incredible amount of company finances, took off with their loot, thereby effectively 'killing' the business. Papa John took this with grace and candour, picked up his life and kept moving on. Even after the culprits (including a distant relative) were apprehended, he refused to persecute or bring to justice those who recked his business. Like the prodigal son, they wasted Papa John's hard earn finances they stole, and had nothing left when apprehended. He forgave them, released them, and let them go, even though he almost went to jail himself because of the failed business! Like he said, "what will I gain for sending these young people to jail? That won't bring back the money stolen!"

One legacy he refused to compromise is education of his children, he went to great lengths to ensure all his children are well educated. He believes an educated life is a wealthy life, and an illuminated soul. Knowledge is light, knowldge is power he use to say.

Papa John is a man gifted with tremendous intellect and astounding divine as well as 'street' wisdom. If you have an idea, bounce it off him, and you'll be impacted with a vision in return. He is the go-to man whenever people are in trouble. He is a troubleshooter, resolving other peoples problems. He became like an 'Area Father' for many. He took it upon himself many times to defend the defendless, and help the weak. He used his wealth when he had it to build tremendous good will that earned him so much respect and connections which lasted till he passed today. Papa John is well travelled as he believes firmly that travelling is education. He's visited virtually all states of Nigeria, many countries of West Africa and Europe. His silent dream of visiting United States of America was realised last year when he visited with his son, daughter in law and grandchildren and also to receive treatment for pancreatic cancer.

Today, we celebrate the life and times of Papa Macaulay Oluwafunmi John. Just as his middle name 'Oluwafunmi' means 'God gave me a gift' or 'God's gift to me'. He was a gift of God to and for his generation and yet to generations after him. Praise the Lord!
Burial Arrangement
Date
Time
Event
Location
Thursday, July 8th, 2010
6.00pm - 8.30pm
Service of Songs
1 Olusoga Street, Off Alafia Street, Mushin, Lagos
Friday, July 9, 2010
8.00am - 9.00am
Lying in State
1 Olusoga Street, Off Alafia Street, Mushin, Lagos
Friday, July 9, 2010
10.00am
Body Leaves Lagos for Okitipupa, via Iju-odo, Ondo State
Friday, July 9, 2010
6.00pm - 9.00pm
Christian Wake Keeping
17 Morolami Street, Idepe, Okitipupa, Ondo State
Saturday, July 10
9.00am - 12.30pm
Lying in State
17 Morolami Street, Idepe, Okitipupa, Ondo State
Saturday, July 10
1.00pm
Interment
17 Morolami Street, Idepe, Okitipupa, Ondo State
Saturday, July 10
2.00pm
Celebration of Life and Entertainment of Guests
17 Morolami Street, Idepe, Okitipupa, Ondo State
This page last updated on 06/25/10 @ 4:16AM.